Mobility
The ability to move in an area can be critical in terms of access to services (health, education), recreation, work, shopping, etc. This importance has been enhanced by the spatial changes of recent decades such as urban sprawl and the functional specification of space. For example, there is often a spatial mismatch between the location of low-skilled jobs and the neighborhoods where people, that could have access to these jobs, live. Given the existing inequalities concerning mobility of persons, the jobs "available" for low-income groups may be limited. The same goes for training, recreation, etc. Given these disparities, initiatives of civil society and policies are trying to overcome these limitations and to increase the ability to move.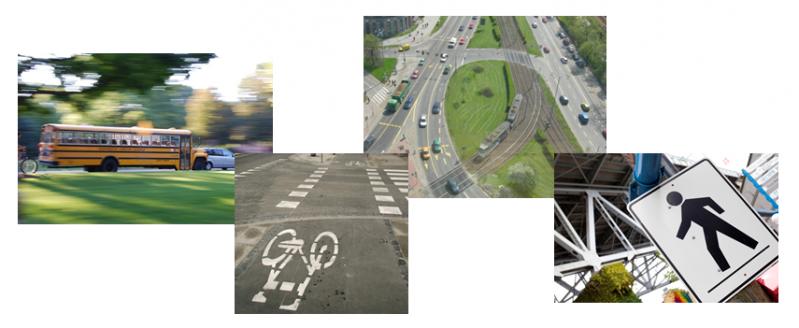 Pictures by Krakow.bicycles, Monica M., Joey Rozier and Gary Brown
Below are some examples of the different types of ACTIONS (in orange) and POLICIES (in green) that aim to facilitate mobility.
Public transport
Although public transport is often not enough to ensure all daily trips, it remains a key means of transportation. Its impact in terms of reducing inequalities in access to mobility is related to multiple factors such as the cost of transportation, service (spatial coverage), frequency and time passing, accessibility for the elderly and people with disabilities, quality of services and their environmental impact, information on its operation, etc.
Cars
Due to time constraints, the limits of territorial coverage, etc., public transport does not always fulfil all transportation requirements. Considered to be more flexible, the car remains a heavily used means of transport. Despite its advantages, the car still has many limitations, especially in terms of cost (purchase of the car, payment of license, insurance, fuel, maintenance, etc.) and its impact on environment. Given this situation, initiatives has been developed in order to share this resource and share its costs. For example, carpooling enables the sharing of transportation costs with other passengers making the same journey, be it a daily commute (home, workplace, home, school, etc.) or a specific trip (to go on holiday, for example). Another example is car sharing, which allows people to rent vehicles at lower cost from a company, an association or another individual.
Bicycles
For short trips around town or in the countryside, cycling is increasingly recognised as an environmentally friendly alternative to cars and public transport. The availability and effectiveness of this means of transport depends on the quality and extension of the network of bike paths, parking spaces, etc. but also on the costs relating to purchase and maintenance of the vehicule. Low-cost rental systems, coupled with the multiplication of repair and bike maintenance workshops, all help to promote cycling and the use of bikes.
On foot
For short trips, walking is another way to get around that is economic, ecological and helps maintain the body through physical activity. Several initiatives are trying to encourage this mode of transport.
All examples of Actions and Policies
Challenges
Aucun article.
Contribute an action to the theme
Contribute a Challenge to this theme
---