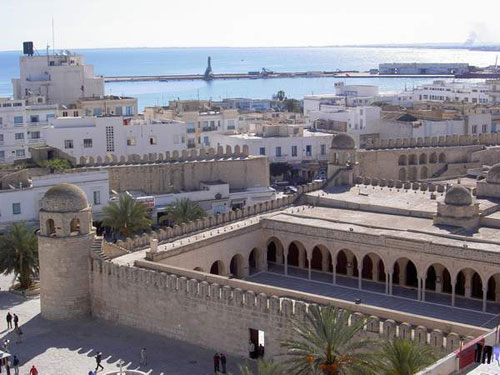 Sousse est une ville de la région de Kairouan qui s'affirme aujourd'hui comme une métropole régionale dynamique en perpétuelle expansion de par son activité économique et balnéaire.
Plusieurs dynamiseurs locaux nous ont fait part de la volonté de développer une future plate-forme SPIRAL.
Territory - city
Sousse est une ville portuaire de l'est de la Tunisie, située à 143 kilomètres au sud de Tunis, et ouverte sur le golfe d'Hammamet (mer Méditerranée). « Capitale » du Sahel tunisien — elle est parfois surnommée la « perle du Sahel » — et chef-lieu du gouvernorat du même nom, la population de sa municipalité atteint 173 047 habitants en 2004 alors que son agglomération avoisine les 400 000 habitants, ce qui fait d'elle la troisième agglomération du pays après Tunis et Sfax. La médina de Sousse est inscrite au patrimoine mondial de l'Unesco depuis 1988.
Coordination group
Description of your coordination group, its history, composition, organisation and functioning
Process
The local co-responsibility building process and projects ongoing. Also examples of flagship actions, ...
Participation in the network
Your activity in the network of the current project and your participation in other Wikispiral projects