Sous-menu des projets :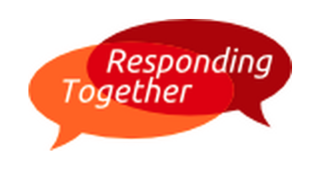 Responding Together is a project co-financed by DG Employment, Social Affairs and Inclusion of the European Commission and DG Democracy of the Council of Europe. In a context of crisis where conventional tools are insufficient to address the complexities of impoverishment, precariousness and inequalities, the Council of Europe proposes to develop experimental local processes that will lead to concrete actions. Responding Together uses the SPIRAL methodological framework, especially its first cycle.
This project will involve at least 30 European cities (organised in clusters of exchange and interaction) as well as local citizens, communities and grassroots movements across Europe. The underlying idea is to create, through the project, links that will enable local inhabitants of those cities, communities, etc. to take advantage of existing creative knowledge in terms of the identification, mobilisation, pooling together and organisation of resources.
The Responding Together project has as a tool the interactive website respondingtogether.wikispiral.org, allowing to connect the local and the global level and to facilitate the transfer of existing knowledge into real actions. This project website is interconnected with the SPIRAL website and is considered as part of the SPIRAL community.
Since 2010, the General Commission for Sustainable Development of MEDDE (Ministry of Ecology, Sustainable Development and Energy) and the Council of Europe led the discussions about the integration of the SPIRAL methodology and agenda 21 / Climate Plan for mutual reinforcement with a common goal: the successful mobilization of actors around a common goal that is the well-being of all, sustainable.
The Agenda 21 is an action plan for the 21st century, which was adopted at the Earth Summit of 1992 by 173 heads of state. Some key elements of Agenda 21: - Agenda 21 makes recommendations based on the sustainable development principles as written in the Brundtland Report of 1987 - An Agenda 21 emphasizes participatory governance as the centre of its approach - An Agenda 21 mainly concerns local authorities but also applies to state services, schools, etc.
Both approaches share the same focus of attention at the local level, and the same construction principles of the co-responsibility between actors and citizens, but have different areas of expertise and tools that can be complementary. This means that on the one hand, SPIRAL will among others strengthen the integration of social concerns to environmental issues through greater citizen participation in Agenda 21; and on the other hand, Agenda 21 will bring the thoughts and tools on key issues they address. In this context, convergence is to create synergy and enrichment in both directions.
---