Parc Zoologique et Botanique de Mulhouse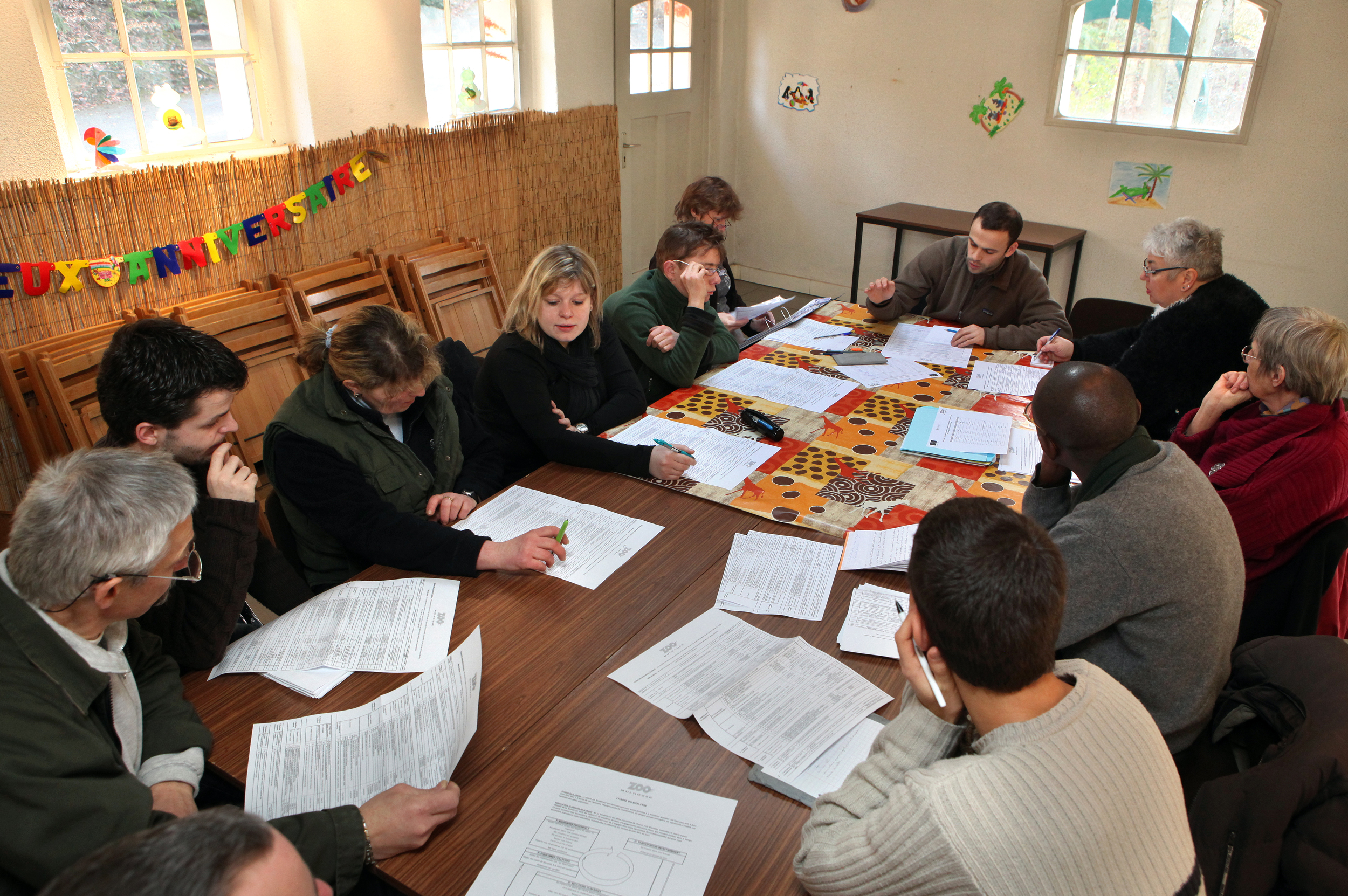 1 - The territory
Un des plus anciens zoos de France
Le Zoo de Mulhouse est l'un des plus anciens zoos de France. Né en 1868, le Parc zoologique et botanique de Mulhouse a fêté en 2008 ses 140 ans. C'est à l'horticulteur GEIGER Père que furent confiés l'agencement des espaces (mouvements de terre, chemins, clôtures) et la réalisation des plantations. Entre 1873 et 1882, création d'un jardin botanique. Dès 1885, les essences d'arbres et d'arbustes sont étiquetés. En plus d'un siècle, il a grandi, évolué, connu des abandons et des réussites…
25 hectares et plus de 170 espèces
Rôle d'éducation et d'information
Rôle de recherche scientifique et d'élevage d'espèces menacées
68 agents (soigneurs, équipe technique, équipe administrative)
Pourquoi la mise en oeuvre de la méthode Spiral ?
Tester la méthode du Conseil de l'Europe dans le monde du travail et ainsi affiner et consolider les acquis obtenus avec l'expérimentation de l'entreprise Straccel.
Permettre aux agents du Parc zoologique d'aller vers un mieux-être et contribuer à l'amélioration de la performance du service
2 - The platform
Constitution de l'Équipe Locale de Coordination
13 personnes se portent volontaire pour faire partie de l'équipe locale de coordination
Tous les groupes homogènes sont représentés
Notre rôle (appropriation de la méthode, définition des groupes, du calendrier, etc.)
3 - The process
Plus de 600 critères ont été exprimés
Réunion d'échange sur les critères exprimés dans les groupes homogènes (06 avril 2009)
Constitution de 6 groupes arc-en-ciel
À partir de cette définition partagée, construction de l'échelle pour chaque indicateur (d'une situation mauvaise à idéale)
Rencontre individuelle (cf. grille d'évaluation) :Évaluation de sa situation au Parc, Propositions d'actions
Synthèse des évaluations Identification des situations de mal-être Identification des situations de bien-être
Travail sur les actions (planification, priorisation, budgétisation, etc.)
Déclinaison des responsabilités et des rôles de chacun
Charte du bien-être
4 - Results
Phase
Achievement step
Achieved
1
Homogenous groups
0
2
Well-being criteria
0
Well-being indicators (3rd cycle)
0%
3
General diagnosis
Well-being indicators diagnosis
4
Planning and scenarii
5
Codecision and involvement tools
6
Actions and projects
0
7
Impact Co-evaluations
8
Self-evaluation of the platform process
5 - Partnerships, exchanges and support needs
6 - Other informations
Co-Acte
Territorial synthesis CO-ACTE - Parc Zoologique et Botanique de Mulhouse
7 - Contact
Please log in to view this field. You can use this link or the login menu on top of the page, then simply refresh this page to view this information.

Please log in to edit the infopage
---